Have you ever considered running to work? As in not taking the train or the bus or the car but slipping on your trainers and using your feet as your mode of transport?
Maybe you have? Maybe you do it regularly? Maybe you think it's a crazy idea or maybe you're very eager to give it ago but just need a push to get you started?
Well did you know national run2work day is almost upon is?
Run2work describe themselves as a movement to encourage people not only to get healthier and fitter through running but to get people to incorporate running into part of their regular commute.
So whatever your thoughts here's a few pointers on running to work, if you're a regular runner to work I am sure you will be familiar with many of these issues but if you're not I hope this article provides food for thought, answers any lingering doubts and maybe gives you the inspiration you need to give it a go....
The same with running generally there are so many positives you can apply to running to work.
Think about it, if there weren't so many positives people wouldn't do in such numbers, so regularly and with such passion.
Fresh air
Working and possibly living in a major town or city and spending your day at a desk or in an office how much time to you get to spend outside in the great outdoors in the fresh air? Running to work can add some much needed outdoor time to your schedule. OK so I know running along busy roads and through cities isn't actually crystal clear clean air but it's better than being stuck in a car or train and if you plan your route you might be able to incorporate a park, riverside walkway or canal path?
A time saving Exercise
Everyone has busy schedules and fitting exercise into your busy routine can be a challenge. So by combining your morning or evening run with your commute might free up some time that you might not otherwise have?
Secondly starting your day with a run to leave you feeling all pumped and positive buzzing with
endorphin's
is a pretty fine way to start your day and will set you up to start you day feeling happy no matter how dull your job may seem.
And an evening run home is a great way to unwind after a stressful day either as a way to take your frustrations out or to relax and think over the day's events.
Sick of seeing the same bus stop or same parking space every day? Think of all the new sights you can discover through running, places you wouldn't normally go and things you might not otherwise have seen.
If your city of town has famous landmarks or tourist spots think of what sights you could pass on your way to work instead of a sweaty strangers arm pit while you are cramped up on the tube.
My running commute in London can often pass Tower Bridge, the Tower of London, St Pauls or Westminster with lively views along the Thames.
Less smelly
Fed up of smelly, grimey and stinky public transport? Well running to work is a less smelly alternative unless of course your trainers really stink!
Less congested
Although your morning wrestle with a stranger for the last remaining seat on the train or your last gasp sprint for the bus before it pulls away are both great forms of exercise think of the extra calories you could burn taking a slow jog into work every day?
Less expensive
Buying some decent running trainers and kit instead of daily bus tickets is potentially going to save you some decent cash over a sustained period of time, extra cash you could put towards entering a running event perhaps?
The thrill of achievement and accomplishment from running is a great feeling I am sure we all enjoy but when you add to that the sense achievement of travelling under your own steam as well as the realistic prospect of racing and realistically beating buses and taxis stuck in traffic as you race by is a whole new amazing feeling well worth trying out!
There are a fee negatives though to be aware of, but lets call them challenges to be considered and overcome.
Traffic
Running in an urban environment can be more challenging than what a lot of people may be used to from running in more residential areas.
Increased traffic levels and a faster pace of life can take a certain level of adjustment and requires a higher state of awareness to make sure you can react to the dangers around you.
Lack of spatial awareness
It's not just traffic levels that are increased, pedestrian levels are usually much higher in towns and cities. My experiences with running in London have taught me that pedestrians can often treat runners with disdain and have very little awareness or tolerance of your presence. Don't expect too many to move out of your path or provide you with an easy route along a crowded pathway.
Tripping over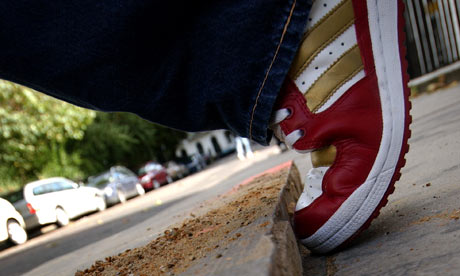 A nightmare for everyone who has to travel anywhere by foot. Poorly maintained pavements are a particular hazard for runners and something to be cautious of especially when taking a new route. From my experiences though I soon became aware of routes with dodgy pavements and quickly learned to treat them with increased awareness or develop routes that avoided them completely.
There are many other negatives to be considered as well, such as arriving at work all covered in sweat, running in the cold when it's icy and snow falling, or what about when it's tipping down throughout the typical British summer time?
Whatever your thoughts and however your view the positives and challenges you encounter wen running2work I personally think it's well worth ago and would recommend you giving it a go!